When you need a commercial electrician in El Paso and the surrounding southwest, we are the team to call. Omega Electrical & Mechanical Contractors are experts when it comes to large commercial projects. Whether your need construction needs electrical wiring, or you need to remodel a current building our commercial electricians are able to help.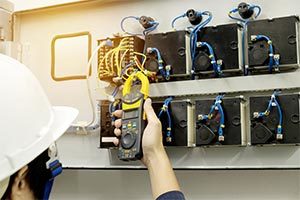 Experienced Experts at Your Service
Our commercial electricians understand all of the coding requirements for the city and state. They are well versed in reading and following blueprints. They will be able to wire a building for all your power, lighting, and heating needs. We can handle everything from retail storefronts, restaurants, office buildings, and just about any commercial location. Our electricians always ensure the highest level of safety in every project. When it comes to installing electrical wiring and equipment, our professionals are skilled and experienced.
Getting Your Business Up to Code
If you have an old commercial building that is no longer within code requirements, our commercial electricians can help. Government codes change regularly and it is important to stay up-to-date. Older buildings may be susceptible to code violations due to outdated systems and wiring. It is important to be sure to stay on top of this to ensure the highest level of safety for building occupants. Our experts can examine and adjust the electrical setup of a building to meet the requirements.
Safety Comes First at Omega Electrical & Mechanical Contractors
Whether we are installing HVAC systems or electrical wiring, we always place a high priority on safety. We like to give all of our clients peace of mind with our quality workmanship and high standards. Our experts have what it takes to work on all projects, no matter the size or complexity with the highest regard for safety. While spotting and avoiding electrocution and fire hazards, our commercial electricians ensure the highest level of safety for all building occupants.
Contact Omega Electrical & Mechanical Contractors Today
If you are in need of a commercial electrician in El Paso or Las Cruces, contact us right away. We are licensed in Texas and New Mexico for your convenience. There is no project too big or small for our experts to handle. Whether you need new construction wiring, upgrades, help getting your building up to code, or anything in between, our experienced experts can provide the knowledgeable, prompt service you need. Contact us today for more information.
Like this content? Share it here!