Omega Electrical & Mechanical Contractors is an El Paso family owned business that started in 2004. Many people are amazed to find out we do more than just excellent electrical work. We are licensed to provide HVAC conversions and installations in both Texas and New Mexico. With the long hot summers in El Paso and New Mexico, having a good HVAC system is a must. While we specialize in government contracts, we are happy to provide residential and commercial customers with HVAC services.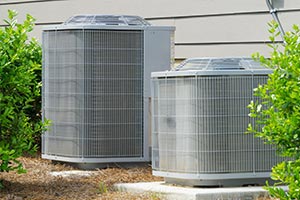 Specializing in Refrigerated Air Conversions
Many homeowners in El Paso are switching from evaporative air coolers, also known as swamp coolers, to refrigerated air. Converting AC systems is a wise choice for many homeowners in El Paso. Swamp coolers tend to stop providing cool air during humid weather. They also require a lot of maintenance and upkeep. Because they are made with relatively cheap parts, pumps, water lines, and pads need to be replaced on a routine basis. If you are tired of dealing with an unreliable swamp cooler system, we can help.
A refrigerated air conversion is a lot simpler than most people realize. One of our technicians can visit your home and assess the square footage as well as your current ductwork. They will recommend the right size and brand for your home and budget. From there, the conversion only takes a matter of days. We make sure you are not left without an air conditioning system for too long.
HVAC Services From Certified Experts
Our technicians are certified in electrical work, and provide excellent HVAC services. Our company specializes in the following manufacturers:





Contact Us Today
We also work on commercial installation and conversion. If you are interested in making the switch, contact us today.
Like this content? Share it here!