When you need reliable residential electrician services, we deliver. We conduct a wide variety of services for the home. Omega Electrical & Mechanical Contractors can update your home to include ceiling fans, sounds systems, security systems, lighting, circuit breaker upgrades, and so much more. Our knowledgeable electricians have the skills and experience to complete just about any project in your home. We offer upgrades and we conduct new wiring in new construction projects. There is nothing too big or too small for our technicians to handle.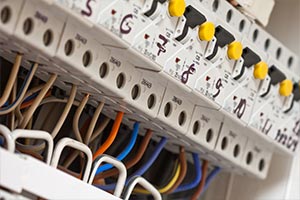 Electrical Safety
You don't have to worry about the safety of your residential electrician services when you call our professionals. From hidden wiring issues to fire hazards and electrocution risks, our experts are able to spot these problems if they already exist and avoid them in the process of new wiring. We have only the best certified and experienced electricians on our team. We deliver quality work the first time around. Working with our licensed electricians will ensure the safety of your home, and more importantly, your family. We are also very familiar with permits that we need to perform certain jobs. We understand that our work may be open to inspection, which is a step in the process that we welcome.
Installing New Electrical Systems and Wiring
If you need a residential electrician for upgrades to your home, our professionals can help. We know that most homes don't come with all the customizations you may want. In this case, our experts can add the extra electrical needs.
Appliance Circuits
Childproof Outlets
Hot Tub Wiring
Ceiling Fan Installation
In-Home Stereo System
Outdoor Stereo System
Home Security System
Indoor Lighting
Under Cabinet Lighting
Outdoor / Landscape Lighting
Home Theater Installation
New Build and New Construction Residential Services
When it comes to installing a wiring system from the ground up, our experts are knowledgeable and skilled. This, in fact, is one of our specialties. We have wired a great many homes, commercial, and government buildings. From installing wiring, lighting system, breakers, and more, our experts are experienced. If you are a contractor in need of an excellent and reliable residential electrician, we can definitely help.
Contact Us Today
Whether you need a residential electrician for a new construction project or updates to your current home, our experts can help. We offer a wide variety of services. Contact us today so we can inspect your home and help you decide what is best for your and your family. We provide prompt, thorough service.
Like this content? Share it here!