Family Owned Business
in El Paso
If your Southwest home is in need of electrical or HVAC services, choose Omega Electrical & Mechanical Contractors. We are proud to be an El Paso family-owned business. Since we are licensed in both Texas and New Mexico, we're able to provide electrical and HVAC assistance to the Southwest at large. But we're much more than your regular run-of-the-mill HVAC team. We specialize in government and city contracts as well as residential and commercial work.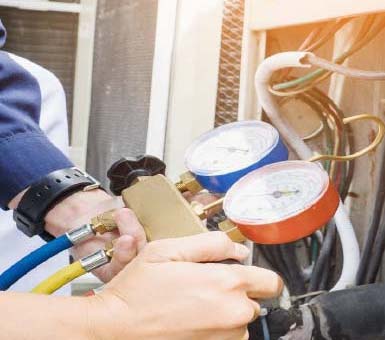 Most Popular Residential and Commercial Services Provided by Omega
At Omega Electrical & Mechanical Contractors, we are more than just a great electric company. Our technicians are certified experts in electrical work, and we also provide heating and cooling services. If you need a conversion or just a brand new heating and cooling system, our experts can provide the prompt and professional service you're looking for.
Electrical

The Omega team is made up of highly-qualified electricians who can tend to issues of any scale. Whether it be a residential or commercial concern, we can help.

HVAC Repairs

The Southwest area is well-known for its record-setting temperatures. Our repair services can make sure your home or business's interior is cool and comfortable all summer long.

Refrigerated Air Conversion

Now is the best time to convert your swamp cooler to refrigerated air. Faulty swamp coolers can make the hot El Paso summers treacherous. If you're tired of your unreliable swamp cooler, Omega Electrical & Mechanical Contractors can help! We specialize in refrigerated air conversions. Make the switch to a more reliable system, today!