When it comes to electrical work, our experts have got you covered. However, that isn't all they do. Our technicians also perform HVAC installation. We'll convert your outdated swamp cooler to a brand new refrigerated air cooler. Converting to refrigerated air conditioning is very popular in El Paso because these AC units work so much better and offer more efficiency.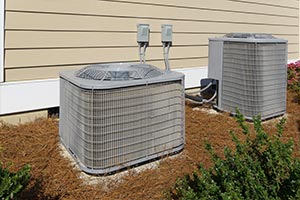 Signs You Need A New Air Conditioning Unit
It is best to stay on top of your AC maintenance. The last thing you want is to deal with a hot summer day without a functioning air conditioner. Often times, repair technicians can take several hours to arrive and fix the problem. However, if you spot the problem before your AC breaks down, you can take the time to change out or even upgrade your unit.
The following is a list of signs to look for that can indicate a future breakdown:
Loud Noises
Air Conditioner Cycles Too Much
A Strange Smell
Not Blowing Enough Air
Not Blowing Cool Air
Air Conditioner Doesn't Shut Off
Benefits of Converting to Refrigerated Air Conditioning
If you are unsure about switching to refrigerated air, there are plenty of benefits to look forward to. First of all, a refrigerated air conditioning unit runs more efficiently and smoothly. Swamp coolers require optimal air flow. This means you have to have windows and doors cracked open for the best cooling conditions in your home or office. While this may not be a big deal for some homeowners, it can be hard in a commercial building. If optimal air flow isn't happening, the swamp cooler has to work harder to cool your home. A refrigerated air conditioner doesn't pull outside air into your home, so the this system is much better for people who struggle with allergies.
Not only that, swamp coolers run on a very simple mechanical system. A pump pushes water into pads and cool air flows through the wet pads into your home. The air in the home is much more humid than that of a refrigerated air system. Swamp coolers also tend to break down often because the mechanical system is so simple. A refrigerated air conditioner doesn't experience this problem. There is also no need to weatherize your home to switch to a heater in the winter. The flip of a switch is sufficient.
What Does Converting to Refrigerated Air Require?
If you are concerned that your home or office cannot sustain a refrigerated air conversion, you are most likely wrong. One of our electricians will visit your home and conduct a full assessment. They can determine the right size unit for you and if your current ductwork will sustain a new AC. The good news is, most refrigerated air conditioners can use the existing ductwork available. In a commercial building, installing ductwork is less of an issue due to dropped ceilings.
Contact Omega Electrical & Mechanical Contractors, LLC
If you are thinking about converting to refrigerated air, you are on the right track. One of our skilled electricians can visit your home or office and help you decide what is best for your HVAC needs. Contact us today to set up an appointment.
Like this content? Share it here!