If your home has an outdated swamp cooler, it's time to convert to refrigerated air! Due to the near-constant heat, homes and businesses in the Southwest area require a reliable air conditioning unit. The temperature outside can reach highs of 100 degrees but your building's interior will be cool and comfortable, no matter what. Once you convert to refrigerated air, you'll have cool air on demand. Omega Electrical & Mechanical Contractors specializes in residential and commercial swamp cooler conversations. Choose us as your conversion team, today!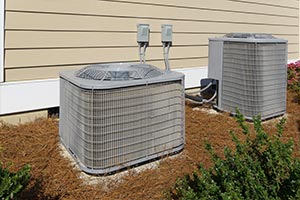 Do I Need To Convert My Swamp Cooler? Look Out for These Signs
When it comes to HVAC maintenance, it's crucial to stay up-to-date. The last thing you want is to face a hot day without a functioning air conditioner and hot days are very common in the Southwest region! If you spot the problem before your swamp cooler breaks down, Omega Electric can repair the issue or upgrade your unit. When converting a swamp cooler, we will make use of the existing ducts that run through your home or business. Refrigerated air units can be installed in a breeze. Soon, you'll be able to keep cool all year long!
Look Out For These Tell-Tale HVAC Maintenance Signs
More often than not, odd occurrences tend to signal further issues or breakdowns. If your unit isn't working as it should, we can help. The following is a list of signs to look for that can indicate a future breakdown:
Loud noises
Air conditioner cycles too much
Strange smells emanating from the unit
Air conditioner unit not blowing enough air
Air conditioner unit not blowing cool air
Air conditioner unit doesn't shut off
The Many Benefits of Converting to Refrigerated Air Conditioning
If you are unsure about switching to refrigerated air, there are plenty of benefits to look forward to. First of all, a refrigerated air conditioning unit runs more efficiently and smoothly than swamp coolers. Since swamp coolers require optimal airflow, you have to have windows and doors cracked open for the best cooling conditions in your home or office. This might put homes and businesses at risk of break-ins. If optimal airflow isn't taking place, the swamp cooler has to work harder to cool the building. Since refrigerated air conditioner units don't pull outside air into your home, the system is much more reliable. Bypassing the need of optimal airflow makes refrigerated air units great for people who struggle with allergies.
Better Mechanical Components Translate to A More Efficient Machine
Swamp coolers run on a very simple mechanical system. A pump pushes water into pads and cool air flows through the wet pads into your home. This process causes the air in the home to become much more humid than that of a refrigerated air system. Swamp coolers tend to break down often because of their simple mechanical systems. A refrigerated air conditioner doesn't experience this problem. There is no need to weatherize your home. You'll no longer have to switch to a heater in the winter. With a simple flip of a switch, your refrigerated air unit can go from cooling your home or business to keeping it warm during the chilly winter months!
What Does Converting to Refrigerated Air Require?
If you are concerned that your home or commercial building cannot sustain a refrigerated air conversion, don't worry! Once you decide to make the conversion, one of our electricians will visit your home or business in order to conduct a full assessment. We will determine which size unit you should use and if your current ductwork will sustain a refrigerated air unit.
When converting to refrigerated air, the Omega Electrical & Mechanical team will make use of the existing ductwork so there will be no need to worry about expensive duct installations. In fact, this process is less of an issue when it comes to commercial buildings. Since most commercial buildings have dropped ceiling, ductwork installation is a much simpler process. Whether you're converting your home's swamp cooler or you'd like to install a refrigerated air unit in your commercial building, Omega Electrical & Mechanical can help!
Contact Omega Electrical & Mechanical Contractors, LLC
Home and business owners in the Southwest area deserve to have cool air on demand. If you're ready to convert your old-fashioned swamp cooler into a state-of-the-art refrigerated air unit, contact Omega Electrical & Mechanical today! Click through to our "Contact" page to set up your next appointment. We can't wait to take care of your HVAC unit!