Spring is Right Around the Corner! It's Time To Get Your Air Conditioning Ready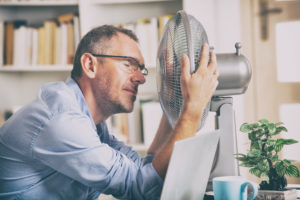 Many people in El Paso are looking forward to the warm weather that is right around the corner. Sometimes spring in El Paso can feel like a mild summer more than anything. For that reason, now is the perfect time to get the air conditioning system ready for the heat that is ahead. Whether you need a good tune up or would like to switch to refrigerated air, our technicians are ready to help. We specialize in providing excellent service.
Make the Switch to Refrigerated Air Now
Switching to refrigerated air now means you don't have to endure any hot days without an air conditioner while an electrician works on your AC unit. Many people in El Paso are switching to refrigerated air for the convenience and efficiency that it offers. A refrigerated air conditioning unit doesn't pull outside air into the house. This means that allergy sufferers will be happier while relaxing inside. These AC units do not require any doors or windows to remain cracked during operation either. They also work perfectly fine in dry or humid heat, which is one of the chief problems with evaporative coolers. Upgrading to refrigerated air is a great choice. Getting it taken care of now will help your family to be ready for the hot days ahead.
Regular Air Conditioning Maintenance
Whether you already have a refrigerated AC unit or you are going to stick to evaporative cooling, regular maintenance is imperative. When you have a technician look over your air conditioning unit now you can be sure that any future malfunctions or problems will be handled before the summer hits. The last thing you want is to flip the switch on the air conditioner to find out it doesn't work. A regular maintenance session will include a full inspection, a full cleaning, lubricating parts, removing build-up and grime, and locating any trouble spots. Conducting annual maintenance will also help increase the longevity of your unit.
Get Your HVAC Springtime Ready! Contact Omega Electrical Today
If you want a maintenance service conducted or want to switch over to refrigerated air, be sure to contact us at Omega Electrical & Mechanical Contractors. We will provide prompt, thorough service. Be sure to take care of your air conditioning now before the hot weather sneaks up on El Paso. Call us today for more info or to set up an appointment.